THE CHRONICLED HISTORY OF KMPC
Excerpted from KMPC's 50th Anniversary Program and Historian Jim Hilliker's account to Los Angeles Radio People www.laradio.com
CLICK ON PHOTOS TO ENLARGE
The station's first official air date was Februray 19, 1927 with the call letters KRLO and studios located at 218 Larchmont. The station was licensed to Beverly Hills real estate developer and stock broker Ernest J. Krause and partner, KRLO engineer and owner, Freeman Lang and A.B. Scott.
Sold to Ernest J. Krause, February 1928. Call letters changed to KEJK for Ernest J. Krause, who owned the building where KEJK was broadcasting, and moved to 9631 Wilshire Boulevard at Camden Drive in Beverly Hills.
| | |
| --- | --- |
| KEJK Remote Truck | KMPC at 9631 Wilshire Blvd., Beverly Hills, CA |
Two months later, In April of 1928 the station was sold to the R.S. MacMillan Petroleum Company with studios at 401 Camden Drive in the "Home Beautiful" Building. Dividing its airtime, KEJK split the broadcast day with Aimee Semple McPherson's KFSG.
On October 15, 1928, KEJK made yet another dial position change and doubled its power to 500 watts and a dial position of 1170 with the transmitter located at 81st and Compton in Los Angeles.
November 15, 1929. KEJK made its final change of dial position, moving from 1170 to 710 kHz. MacMillan tried to change the KEJK call letters to KMP in 1929, but the letters were already assigned to Boeing Air Transportation in Omaha, NE.
March 14, 1930, KEJK officially changed its call letters to KMPC to have better identification with its parent company (McMillan Petroleum Company.)
Mid-March 1932, power was doubled again to 1000-watts and on March 11, 1933 KMPC was sold to the Beverly Hills Broadcasting Corporation for $50,000. But the KMPC call-letters would be forever associated with its former owner.
June 1934, Beverly Hills Broadcasting went into receivership and was acquired by Pacific Southwest Discount Corporation and on August 4, 1936 Beverly Hills Broadcasting Corporation (KMPC) was purchased by Detroit businessman George A. (Dick) Richards for $125,000.
(L to R) Bing Crosby, Freeman Gosden, Harold Lloyd, and Charles Correll

Photo Courtesy Annette Lloyd

Richards brought into his corporation, as stockholders, Bing Crosby, Paul Whiteman, "Amos & Andy" (Freeman Gosden & Charles Corell) and producer and silent film comedian Harold Lloyd, who had not only a strong interest in radio, but his own radio show, "The Old Gold Comedy Theater" on rival station KFI (640 AM). They renamed the station "KMPC the Station of the Stars."
In 1938, Robert O. Reynolds joined the KMPC sales staff. An All-American at Stanford University, Reynolds had been signed by the Detroit Lions professional football team, also owned by G.A. Richards. Richards offered Reynolds a radio sales job in the off-season. Reynolds never returned to Pro Football and in 1942 was named Vice President and General Manager of KMPC.
In 1940 KMPC was licensed to broadcast 24 hours daily and increased power to 5000-watts day and 1000-watts at night.
KMPC Transmitter In San Fernando Valley




On September 19, 1942, with the help of the new Director Of Engineering, Lloyd Sigmon (inventor of the now famous "Sig-Alert"), KMPC increased its power to 10,000-watts FULL TIME and moved the transmitter to its present location on Burbank Boulevard (East of Coldwater Canyon) in North Hollywood.

This facility was expanded in 1946 specifically to accommodate KMPC's power increase from 10kw to 50kw and house the then-new RCA 50F Transmitter. It's location is in a busy neighborhood now, but at the time of its construction, the surrounding area was completely agricultural. The design and construction project was under the supervision of KMPC's long-time transmitter supervisor and engineering pioneer, Mal Mobley, who spent the majority of his life as a broadcast engineer with KMPC.

(Thanks to Marvin Collins and Steve Blodgett for this photo and information)
In 1944, even though many of the station's staff were serving in the Armed Forces, KMPC had outgrown its original facilities in Beverly Hills, and on March 19, 1944 moved to 5939 Sunset Boulevard (currently the Old Spaghetti Factory.)
During this period, KMPC first became known as Southern California's sports station, graduating from Hal Berger's recreations of Major League baseball, to live coverage of Pacific Coast League baseball, boxing, football, wrestling, golf, tennis and basketball.
"KMPC WAS SOUTHERN CALIFORNIA'S SPORTS STATION"
| | | | | |
| --- | --- | --- | --- | --- |
| | | | | |
| Hal Berger - Sportscaster | Pacific Coast League Logo | Old LA Coliseum (Baseball) | Chavez vs. Aragon at Olympic | 1947 LA Rams Program |
In 1947 KMPC received approval from the FCC to increase its broadcasting power to 50,000-watts during daylight hours and 10,000-watts directional at night.
G.A. Richards died in 1951 leaving the station in possession of his widow and under management of Bob Reynolds and Lloyd Sigmon.
| | |
| --- | --- |
| | Prototype of the first SIGALERT receiver and recorder |
Learn more about the SIGALERT by clicking on the photos above
In 1952 Mrs. Richards offered KMPC for sale, and Gene Autry became the principal owner. Autry, along with Reynolds, Sigmon and others, purchased KMPC for an estimated $800,000. The "Station Of The Stars" became KMPC INC. It was the ONLY major radio station in Los Angeles to be owned and operated by local residents.
In June 0f 1968, KMPC moved to 5858 Sunset Boulevard between Bronson and Van Ness. That "Big White Building On Sunset" had a rich history.
That history included a variety of formats from nostalgia, to big bands ("The Great Stars and The Great Songs) to both news talk and sports radio, and back to Adult Standards. But whatever the format, whomever the air talent, those in the radio business thought of it as "RADIO HEAVEN!"
| | |
| --- | --- |
| | In 1961 KMPC produced a promotional film which was used as a sales tool. The film features an overview of the station and their commitment to community service as well as a look at the various departments and personalities and programs that made the station so successful. |
WHERE THE TALENT WAS
From wasteland to sound stage to picture studios to roller rink and bowling alley to KMPC and KTLA here is a brief history of 10.2 acres in Hollywood on a street lined with palm trees.
WARNER BROS. Bought the property in 1918 for $25,000 (with nothing down!) and proceeded to build a 50x100' stage in the middle of the weeds. An enormous, bare structure they soon called "The Barn", but what KTLA now calls, more familiarly STAGE 6. The first big movie star to emerge from this stage was RIN TIN TIN, but famed arrived in 1927 when THE JAZZ SINGER, starring AL JOLSON, became the first sound film in history. THE LIGHTS OF NEW YORK, also produced by Warner Bros., was the world's first ALL-talking picture. (Among so many others, PORKY PIG and BUGS BUNNY originated there, too!)
The KMPC Building was constructed in 1924 as the home of Warner Bros. Studios. The brothers were a colorful team. Sam got the ideas, Harry financed them. Abe worked them out and Jack carried them into action. It was Sam who developed the first sound film, and it was his tragedy that he died just the day before THE JAZZ SINGER made its debut. In later years there was a rumor that because the two Hollywood-based Warner brothers could no longer abide each other, they took their executive offices at opposite ends of the vast upstairs hall, each trying to out-do each other.
| | |
| --- | --- |
| Warner Bros. Studios 1924 | Warner Bros. Studios 1924 with Eastbound Traffic on Sunset |
| | |
| --- | --- |
| KFWB Studios at 5858 Sunset | Sunset Bowling Center Entrance |
TRANSFORMATION
Since the Warner Bros. Heyday, the property was occupied by KFWB and CBS and was the Sunset Bowling Center for 10 years. It featured 52 Lanes, the largest in the world at that time, with pin boys living in the loft of the building.
Paramount Pictures took it over in 1942 for an estimated $1,550,000 and added more stages for its television station. Gene Autry's Golden West Broadcasters bought the license and television facilities in 1964 for $12,000,000 and the acreage in 1967 for $6,500,000…a total of $18,500,000.
Then a question was raised that at on time or another faces all station operators: Is radio worth significant capital investment? Golden West cast its vote for making KMPC a showplace. It was rebuilt and redecorated in 1968 at accost of another one million dollars. 30,000 man hours went into the remodeling; an additional 20,000 man hours for installation of technical equipment.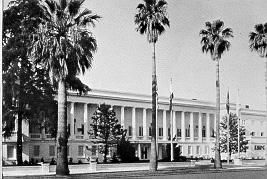 The executive wing at the east end of the building was constructed in 1969, with offices upstairs for Gene Autry* and his staff. The downstairs are was intended to be a museum, but by 1973, KMPC had grown to a staff of 136 and the space was needed for additional offices. As it stands today the building is 26 feet longer than a football field…108 2/3 yards.
*Gene Autry passed away on October 2, 1998. He was 91 year old.
Orvon Gene Autry


BORN

September 29 , 1907
Near Tioga, Texas


ENTERED INTO REST
October 2,1998
Los Angeles, California

AGE

91 Years 3 Days

CAUSE OF DEATH

Lymphoma

FINAL RESTING PLACE

Forest Lawn Memorial Park - Hollywood Hills

Sheltering Hills #1048

Los Angeles, CA
In 1997 the stations' call letters were changed to KTZN for their new talk format "THE ZONE" which featured personalities such as Stephanie Miller. A few years later, KMPC was eventually sold to Disney and then moved from the facility. The KMPC call letters currently host a sports format at 1540 on the AM dial.
710 AM is now ESPN RADIO (KSPN) and the KMPC call letters belong to Sporting News Radio now at 1540 AM. The "Big White Building" is now production offices for KTLA and Tribune Broadcasting. But for those of us who walked its hallowed halls it will simply be remembered as RADIO HEAVEN!
| | |
| --- | --- |
| | |
| The AM 710 kHz frequency is now the home of ESPN Radio | The KMPC Call Letters now belong to Sporting News Radio 1540 AM |
HISTORY PERSONALITIES PHOTO GALLERY AIRCHECKS JINGLES AUTRY LINKS COMMENTS HOME